Piping up: Lucid's Portland project hits the stretch run (Photos)
By Lee van der Voo
Contributing Reporter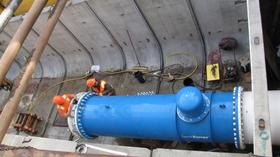 A LucidPipe installed in a utility vault on 147th Avenue in Portland. The pipe will connect to a new storage reservoir beneath Powell Butte. Click through for more photos of the project.
Lucid Energy teamed with the Portland Water Bureau and its contractors Wednesday to install the company's electricity-generating pipe system outside a reservoir now being constructed in the Powell Butte area.
Portland-based Lucid Energy is the manufacturer of the LucidPipe Power System, an in-pipe hydropower technology that generates electricity from flowing water. The technology was developed in partnership with Vancouver-based Northwest Pipe Co.
The $1.7 million pilot with the city's water bureau is being constructed in tandem with the development of a 50 million gallon water reservoir beneath Powell Butte, the second of two such reservoirs in the area. The reservoir is about 78 percent complete and expected to wrap up mid-November. The majority of the city's water distribution system is located westward and downhill from the reservoirs, making it an ideal location for the LucidPipe, which is gravity fed.
Once operational, the LucidPipe will have a 172 kilowatt capacity. It is expected to generate 1,100 megawatt hours of energy per year as water passes through it, enough electricity to power up to 150 homes.
Though the project is currently being financed by private investment, the Portland Water Bureau will share in the revenue generated through electricity sales, estimated at $55,000 in the first year.
The project is intended to confirm LucidPipe's ability to help municipalities and water utilities monetize their water systems. It's the fourth pilot project for Lucid Energy, which has previously installed three iterations of LucidPipes and one commercial system in Riverside, Calif.
Comments
If you are commenting using a Facebook account, your profile information may be displayed with your comment depending on your privacy settings. By leaving the 'Post to Facebook' box selected, your comment will be published to your Facebook profile in addition to the space below.