Portland social venture investors to unveil $20M fund
By Lee van der Voo
Contributing Reporter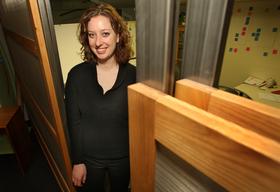 Carolynn Duncan said the new fund will make investments of up to $250,000 in social impact companies.
A $20 million social impact fund, tied to the business education firm TenX, is set to hit the ground in Portland this fall.
Details on partners in the upstart Northwest Social Venture Fund are so far scant. But its founding partner is Carolynn Duncan, CEO and founder of TenX who is formerly affiliated with the Salt Lake City-based venture capital firm EPIC Ventures.
Duncan confirmed Wednesday that the fund is set to launch with a $20 million first-year fund and will make Series A investments ranging from $500,000 to $3 million in companies with less than $1 million in annual revenue.
It will focus on social impact companies as a means of bringing engineers, entrepreneurs and fund managers to bear on world problems, she said.
"Our focus is: How can we reduce suffering in the world through market-based solutions?" said Duncan, adding the fund will look for great technical and business talent on the West Coast.
She added the fund will seek companies that really go after, tackle and solve a world problem, but don't settle for lower returns in exchange.
"To reduce suffering, I think, is important," Duncan said. "And I think the venture model is a great tool for that because of how expansive it's reach can be if a company can scale at that level. A person with a good heart that is helping a handful of people in a nonprofit model is noble, but it's not that effective," she said.
Duncan, a self-described "social worker turned venture capitalist turned social venture capitalist" said the fund's launch is in part also an attempt to capture profits from successful ventures incubating through TenX.
Comments
If you are commenting using a Facebook account, your profile information may be displayed with your comment depending on your privacy settings. By leaving the 'Post to Facebook' box selected, your comment will be published to your Facebook profile in addition to the space below.