SCRAP-py and sustainable: Makin' It with Destination DIY (Photos)
By Andy Giegerich
Digital Managing Editor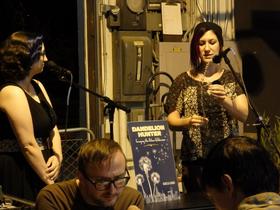 Destination DIY host Julie Sabatier, left, interviews Rebecca Lerner, author of Dandelion Hunter during the recent Makin' It event. Click through for more scenes from Makin' It, which offers a glimpse at how the Destination DIY radio program shares many commonalities with Portland's greener businesses.
We've always liked how the Portland-produced radio show Destination DIY seemed to, intentionally or not, espouse the same principles as the city's green-leaning businesses.
That's why we connected with Julie Sabatier, the show's host, producer and creator, to find out a little bit more about the DIY ethos and how it might pertain to the business world.
---
Do it yourself, do it for others: Scenes from Destination DIY's Makin' It
---
It so happens that Sabatier and Jaymee Cuti, an event coordinator and a producer for Destination DIY, were preparing one of the program's (it runs on public radio stations around the country, including on Portland's own KOPB-FM) signature events: The Makin' It monthly happening presented in tandem with SCRAP, which is North Portland's preeminent outlet for repurposed goods, and ADX, which subscribes to the same philosophies.
Here are Sabatier's thoughts on Destination DIY's business-y links. After reading the interview, click through for scenes from last week's Makin' It gathering at ADX.
Sustainable Business Oregon: So what, exactly, is Makin' It?
Julie Sabatier: Makin' It with Destination DIY is a monthly event put on in partnership with SCRAP and ADX. We call it a "project night and listening party." We invite people to bring something they're working on and hang out, drink beer, eat pizza (both donated by sponsors Full Sail and, this month, Rovente Pizzeria) and listen. We have a DJ spinning throughout the night and around 8 p.m. I get on the mic and introduce a guest for a live interview, or play a new piece we've been working on for the show.
Comments
If you are commenting using a Facebook account, your profile information may be displayed with your comment depending on your privacy settings. By leaving the 'Post to Facebook' box selected, your comment will be published to your Facebook profile in addition to the space below.