Warner Pacific adds social entrepreneurship major in Portland
By Andy Giegerich
Digital Managing Editor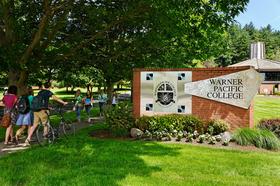 The Warner Pacific social entrepreneurship program aims to send graduates into the community equipped with sustainable solutions to civic issues.
Portland's Warner Pacific College has unveiled a degree program for students who are seeking "positive change in the city."
The school will soon confer Bachelor of Science degrees to students majoring in social entrepreneurship. The program aims to equip students with "the expertise needed to create innovative business ventures that address society's most pressing challenges."
Warner Pacific's instructors have identified sustainability as a key component of the program. The school describes the program as "a service-oriented, faith-based approach to community outreach."
Students in their senior year can also participate in the Capstone Project, in which they create a small business to meet a need within the community.
"More and more, the world and Portlanders are realizing that there is a better way to conduct business that allows companies to thrive while contributing to the overall well-being of the entire community; where faith and work are not separate and distinct but actually are integrated as one and the same," said Tom Mears, chairman of Burgerville. "I look forward being a part of these students' development and to watch the impact they will have on our community."
Comments
If you are commenting using a Facebook account, your profile information may be displayed with your comment depending on your privacy settings. By leaving the 'Post to Facebook' box selected, your comment will be published to your Facebook profile in addition to the space below.