Three-wheeling Arcimoto closes $500k fundraising round
By Andy Giegerich
Digital Managing Editor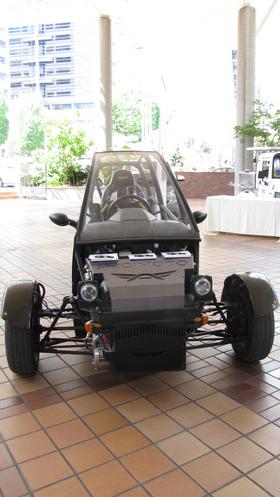 Homegrown Arcimoto's SRK is a three-wheeled roadster style machine that draws gazes wherever it goes
Three months after scoring half of a fundraising round, Arcimoto Inc. has now snagged the other half.
Eugene-based Arcimoto, in a Securities and Exchange Commission filing, reported it has closed the $500,000 round. The investments will come in the form of equity.
Mark Frohnmayer, the company's founder and president, filed the form Oct. 15.
Frohnmayer had said last summer the company continues to raise money as it tests an initial pre-production "pilot fleet" of its three-wheeled electric vehicles.
The effort puts Arcimoto's fundraising tally at at least $1.2 million. Drive Oregon gave the company a $50,000 grant in February.
Arcimoto has picked up more than $1 million in investments over the years. In February, Drive Oregon gave the company a $50,000 grant.
As it did on the July filing, Arcimoto listed its revenue on SEC form as between $0 and $1 million.
Arcimoto's three-wheeled vehicles are designed for short-term trips and feature "aerodynamic tandem seating, a lightweight footprint, and three wheels for reduced road drag," according to the company.
Comments
If you are commenting using a Facebook account, your profile information may be displayed with your comment depending on your privacy settings. By leaving the 'Post to Facebook' box selected, your comment will be published to your Facebook profile in addition to the space below.