Before and after: Beaverton Toyota's clean and dramatic new look (Photos)
By Andy Giegerich
Digital Managing Editor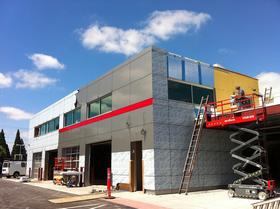 The new skin of Beaverton Toyota's sales building as it's being installed. Beaverton Toyota's remodel features energy and water saving techniques as well as sustainable materials throughout the facility. Click through for more glimpses, including several "before and after" shots of the work at the auto dealer.
The $12 million-plus rehabilitation of Beaverton Toyota's sales and service facilities included a rare foray, for an auto dealer anyway, into the world of green certification.
Indeed, Toyota's leaders themselves encouraged Russ Humberston, the facility's GM, to consider a plan that would attain some type of LEED certification when he began the locale's revamp in 2007.
"Most of his peers have shown little interest in the concept, but we did not have to lobby hard to convince Russ of the efficacy of sustainable design," said Tripp Royce, one of the SRM Architecture and Marketing team leaders who worked on the redesign. Leonard and Associates is the project's general contractor.
The final phase of the project is only now underway, but the numbers are already very promising. Humbertson reported to SRM that his utility fees are dramatically reduced, by as much as 30 percent in the sales center even though the space isn't quite done.
The project is scheduled for completion in February, but has been open for business throughout the multi-year endeavor.
Royce said the work "fulfills on the Humberstons' promise to contribute to the community and be stewards of the environment." The SRM team's plans include a 64 kilowatt rooftop photovoltaic system, high efficiency thermal protection, lighting and a retooled HVAC platform. The architects replaced old light pole fixtures with new energy efficient lights, reducing the wattage by 60 percent while improving color rendition
Beaverton Toyota extended the work to its free-standing car wash, which now recycles 70 percent of its waste water.
Humbertson hopes to attain LEED-Gold status for the sales center.
Comments
If you are commenting using a Facebook account, your profile information may be displayed with your comment depending on your privacy settings. By leaving the 'Post to Facebook' box selected, your comment will be published to your Facebook profile in addition to the space below.