Better-than-OK corrals: City adds 100th street bike parking spot (Photos)
By Andy Giegerich
Digital Managing Editor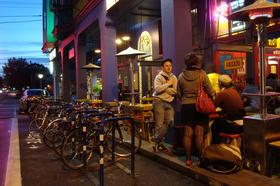 Sarah Figliozzi/Portland Bureau of Transportation
The colors of Pambiche, on Northeast Glisan St., attract countless eaters who pedal their way to the Cuban restaurant. The corral is one of 100 in Portland, with the latest being added this week. Click through to see some of our favorite bike corrals throughout the city.
Just nine years after starting its bicycle on-street customer parking program, Portland has added its 100th such bicycle corral.
The Portland Bureau of Transportation announced that New Seasons Market, at 4034 S.E, Hawthorne Blvd., will host the next such installation. The program has helped Portland businesses increase on-street customer parking ten-fold in the last nine years.
---
Corralled: Take a cruise around town and look at some of Portland's best bike corrals
---
The Fresh Pot on North Mississippi Avenue hosted the city's first bike corral. Such high-travel commercial areas as the Pearl District, Alberta, Belmont and Hawthorne business districts have added corrals since.
All told, businesses and the city have replaced 163 auto parking spaces with 1,644 bicycle parking spaces.
The corrals consist of six to 12 bike racks installed on the street. The program began when high demand for bicycle parking began exceeding sidewalk capacity.
The city's Transportation Bureau said it has 98 additional bike corral applications under review.
Comments
If you are commenting using a Facebook account, your profile information may be displayed with your comment depending on your privacy settings. By leaving the 'Post to Facebook' box selected, your comment will be published to your Facebook profile in addition to the space below.