Latest 'Truck Trike' has bike designer reaching new Stites (Photos)
By Andy Giegerich
Digital Managing Editor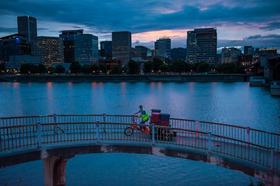 Bill Stites takes the newest version of his Truck Trike for a spin on Portland's Esplanade. The ride on the V3 demonstrates the Trike's agility. Even though the human-electric powered Trike can haul 600 pounds, it can make sharp turns. Click through for more shots of Stites' handiwork.
With a clean footprint (wheelprint?) and a design that ranges somewhere between arty and functional, Bill Stites' "Truck Trikes" could be just the ticket for forward-thinking Portland business customers.
Stites, who's releasing the third version of his Truck Trikes this month, is looking to amp production of the units as word gets out about the Trikes' many utilities. The Trikes are propelled by both human power and an electric motor, depending on the incline, and can haul 600 pounds despite weighing just 250 pounds themselves.
---
Pedal power: Take a closer look at the Truck Trike
---
The Trikes represent, essentially, a new class of vehicle that fills a gap between bikes and cars.
"Number one, it's in a class that weighs between 200 and 300 pounds that, number two, is powered by humans and electricity," said Stites. "Number three, it has three wheels and, number four, it can haul two to three times what it weighs. That's the kicker: It carries far more payload than the vehicle's weight."
Stites Design has been designing and building small vehicles for 20 years. Along with its current Truck Trikes, the company has more planned vehicles in its design pipeline.
The company is located in Portland's Central Eastside Industrial District. Which is fitting because Stites' Truck Trikes seem custom-made for the Central Eastside Industrial District: They can carry up to 600 pounds and are easy to maneuver in crowded areas.
Stites, a member in good standing of Portland's bike-making community, is also pushing the items for municipalities and universities that need to transport goods short distances. The Truck Trikes can also serve as point-of-sale conduits for, say, selling coffee or ice cream.
Comments
If you are commenting using a Facebook account, your profile information may be displayed with your comment depending on your privacy settings. By leaving the 'Post to Facebook' box selected, your comment will be published to your Facebook profile in addition to the space below.