Cha Cha Cha's new farm, conservation measures help restaurants go all in on sustainability (Photos)
By Andy Giegerich
Digital Managing Editor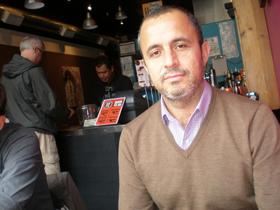 Cha Cha Cha's owner Javier Hurtado already subscribes to such green principles as saving energy and water and using locally sourced food in his restaurants. Now, he's looking to create a nine-location chain that's "100 percent sustainable" through such strategies as using beef and produce raised on his own farm. Click through for a look at Hurtado's existing green operating strategies.
Cha Cha Cha owner Javier Hurtado wants to create the world's most sustainable Mexican restaurant.
The competition, Hurtado concedes, is thin. Which explains why the Portland entrepreneur seeks to raise awareness within his sector of the importance of sourcing locally and imposing conservation measures within each of the six Cha Cha Cha stores he owns.
---
Cha Cha Cha: A deeper look at the restaurant chain's sustainable aims
---
He's already pledged to use seafood providers who follow Monterey Bay Aquarium standards. He's added Energy Star rated appliances to each location. He recycles his used oil and purchases vegetables grown within a short drive of Portland.
The next step: He's going to grow as much food as he can at a Cha Cha Cha-owned farm.
"We're getting permits for it now," Hurtado said of the Clackamas County facility "We'll raise our own beef and grown our own vegetables there."
In so doing, Hurtado is bridging the at-times wide gap between his cultural heritage and sustainable business practices. His family owns the nine-restaurant chain (Hurtado's sisters own three of the locations) that has deployed such tactics as composting and recycling since it opened in 2001.
"I want to take it further: I want to be 100 percent sustainable," Hurtado said. "That's unusual for a chain, but it's also unusual for someone in our (category). We do things with fresher and cleaner food. We're trying to change the traditional views of Mexican restaurants."
To that end, Cha Cha Cha liberally uses such ingredients as quinoa and offers such items as a garden enchilada.
"It's important right now in Portland that people know where their food comes from," Hurtado said.
Comments
If you are commenting using a Facebook account, your profile information may be displayed with your comment depending on your privacy settings. By leaving the 'Post to Facebook' box selected, your comment will be published to your Facebook profile in addition to the space below.