Cleantech Open finalists crank out the energy (Photos)
By Andy Giegerich
Digital Managing Editor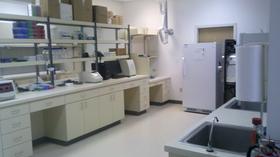 Phytelligence's lab is where the Cleantech Open winner's magic happens. The company deals in the plant DNA-identifying trade. Click through for a closer look at Phytelligence and other Cleantech Open winners and honorees.
Last week's Cleantech Open event featured several familiar faces in what are effectively new places.
Each of the three companies landing regional Cleantech Open honors have not only raised funds, they've won prizes in other categories. The way the national contest works is a bit complicated (here's their website), but one way to think about it is that the Cleantech Open group itself runs the world's largest cleantech accelerator. It wants to find, fund and foster entrepreneurs. The Cleantech Open event seeks to find companies worthy of filling that mission.
John Martin, the area's regional CtO director, puts it this way: "CtO's whole schtick is to laud ideas with strong chance of success in open, unsubsidized, private markets because we feel only via such mercantile success will the planet be improved."
The companies Helion and Phytelligence nabbed $5,00 each and will enter the Cleantech Open's Global Forum on Nov. 20 and 21.
That all said, click through for a look at three company winners, along with an individual honoree, from this year's Cleantech Open event.
Comments
If you are commenting using a Facebook account, your profile information may be displayed with your comment depending on your privacy settings. By leaving the 'Post to Facebook' box selected, your comment will be published to your Facebook profile in addition to the space below.