Climate Trust helps develop grasslands carbon-avoidance tool
By Andy Giegerich
Digital Managing Editor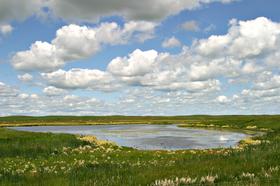 The work by Climate Trust and other groups will help protect such areas as the Missouri Coteau.
A Portland group has played a key role in developing a new carbon-avoidance tool that could protect one of the world's most vulnerable ecosystems.
The Climate Trust worked with the USDA's Natural Resource Conservation Service, Ducks Unlimited and the Climate Trust on the Avoided Grassland Conversion carbon project. The project, one of nine such climate change initiatives selected and funded by the NRCS's 2011 Conservation Innovation Grant program, addresses greenhouse gas mitigation "for one of the least protected and most imperiled ecosystems in the world."
Carbon that is trapped long-term within soils is released to the atmosphere in the form of carbon dioxide when soils are tilled or disturbed. The Avoided Grassland Conservation project enrolled 114 eligible landowners who own 50,000 acres.
The partners studied lands in eight North Dakota counties that are part of the Missouri Coteau region of grasslands and wetlands.
Among other advances, the program helped develop new ways to quantify how much carbon remains in the soil.
"In addition to the significant greenhouse gas emissions reductions achieved by this project, carbon financing allows local ranch families to maintain their traditional livelihood of cattle grazing by providing economic incentives," said Dick Kempka, The Climate Trust's vice president of business development. "The project also generates significant environmental co-benefits by enhancing water retention, air quality and soil quality, in addition to preserving habitat for at least four endangered species that call the grasslands home."
The Avoided Conversion of Grasslands and Shrublands carbon offset methodology is the first of its kind and aims to help grassland-based agricultural producers earn income from the sale of carbon credits generated through the preservation of their grasslands.
Comments
If you are commenting using a Facebook account, your profile information may be displayed with your comment depending on your privacy settings. By leaving the 'Post to Facebook' box selected, your comment will be published to your Facebook profile in addition to the space below.