Grant helps Corvallis' MTEK push ahead on desalination efforts
By Andy Giegerich
Digital Managing Editor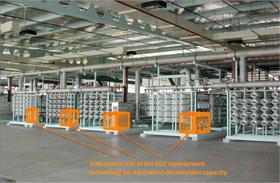 A look at how MTEK's technology could allow for a scalable desalination plant.
A Corvallis startup has collected a commercialization grant that'll allow it to hone systems that remove salt from seawater.
The idea behind MTEK Energy Solutions' strategies is that the systems can cut energy consumption associated with removing salt from seawater by 50 percent, which would boost potable water yields. The technology "could enable small, distributed desalination operations with the potential to eliminate the transport of potable water from current large-scale plants," according to MTEK and the Oregon Built Environment and Sustainable Technologies Center.
Oregon BEST awarded MTEK $145,000. The group has now awarded $2 million in commercialization grants since 2011. Oregon BEST hopes to speed commercialization of the state's most promising clean technologies developed at universities and within businesses.
The MTEK work could allow for smaller treatment plants to be built for agricultural users, low-population density markets and developing nations that lack electric power infrastructure.
"Due to population growth, climate change and other factors, desalination is an enormous market with tremendous growth expectations," said Jeff Canin, MTEK's CEO.
The technology uses a novel capacitive deionization process to move salt ions to the exterior of a series of microchannels as potable water flows through the system.
"Both of the technologies currently used for desalination, thermal (evaporation) and reverse osmosis (forcing seawater through a membrane under extreme pressure) are high-energy consumption, with energy alone accounting for nearly half the operation costs of producing a gallon of water," said Canin. "Using our technology of microchannels and capacitive deionization, we believe we can significantly reduce the energy used in desalination and be able to deploy this technology at scales not possible with current technologies."
Comments
If you are commenting using a Facebook account, your profile information may be displayed with your comment depending on your privacy settings. By leaving the 'Post to Facebook' box selected, your comment will be published to your Facebook profile in addition to the space below.