Workplace aces Environments enlists clients for their modular squad (Photos)
By Andy Giegerich
Digital Managing Editor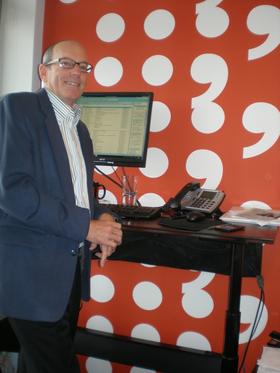 Chris Corrado, president of the workspace design specialist Environments, believes the industry is shifting toward modular plan schematics as both a matter of practicality and sustainability. Click through for some examples of designs that Corrado and his team can offer.
A Portland workspace specialist wants to help clients raise the bar on clean material usage when designing sustainably built structures.
Leaders of the company Environments believe they can do so by espousing the Do It Right This Time credo that's increasingly entering more sustainably built interior design solutions. The philosophy, which its purveyors proudly call by its acronym (DIRTT), calls for building professionals and space planners to look at sustainability from a return-on-investment vantage point.
---
Environments: Take a look behind the scenes at the firm's designs and materials sourcing
---
To that end, the DIRTT principles call for using modular building methods, including prefabricated components, that are versatile enough to provide myriad design options. The "sustainable" part comes in with the components' flexibility: Because the materials are modular, they can be reshaped and therefore reused, preventing waste from entering landfills.
Another way to think of it: Along with composition, the long-term performance and flexibility of materials should be an integral part of green building.
"We're on the cusp of change," said Chris Corrado, Environments' president. "Everything is moving toward modular. We want to lead the charge" in terms of recommending ideas for office spaces designed through DIRTT principles.
Among other logic, those subscribing to the DIRTT philosophies note that fully sustainable strategies should save clients money by making the end result more efficient while significantly slashing downtime.
DIRTT calls for more use of modular walls, millwork and flexible technology ports and inputs.
Comments
If you are commenting using a Facebook account, your profile information may be displayed with your comment depending on your privacy settings. By leaving the 'Post to Facebook' box selected, your comment will be published to your Facebook profile in addition to the space below.