FERC chair to join Stoel Rives law firm
By Suzanne Stevens
Editor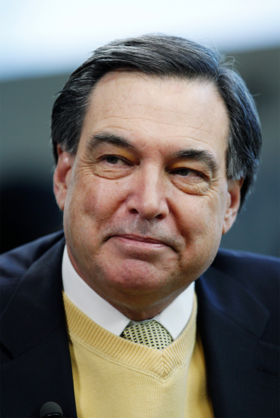 FERC Chairman John Wellinghoff is joining Stoel Rives.
Stoel Rives has landed an attorney with considerable political clout to join the firm's energy practice.
Federal Energy Regulatory Commission Chair John Wellinghoff will join the Portland-based firm upon completion of his duties with the federal agency. Wellinghoff submitted his resignation letter to President Obama in May, but no date has been set for his departure.
Wellinghoff will work out of Stoel Rives' offices in Washington, D.C. and San Francisco. He has been chairman of FERC since 2009. Prior to joining FERC, Wellinghoff worked in private practice.
Stoel Rives has about 100 attorneys in its energy practice, which focuses on a broad swath of the industry including oil, gas, mining, exploration, production and renewable energy.
"Being a firm that has a western orientation, we see in natural resources and innovation that technology is playing a bigger role in how energy is developed, distributed and used," said Stoel Rives Managing Partner and CEO Bob Van Brocklin. "We think John has particularly strong insight into the future of energy and appreciates the role that technology will play... in developing out the energy grid."
Stoel Rives, Portland's largest law firm, has almost 400 attorneys in seven states.
Comments
If you are commenting using a Facebook account, your profile information may be displayed with your comment depending on your privacy settings. By leaving the 'Post to Facebook' box selected, your comment will be published to your Facebook profile in addition to the space below.