Adidas and Lewis & Clark food supplier is up to the (local) challenge (Photos)
By Andy Giegerich
Digital Managing Editor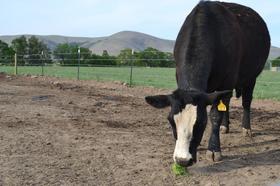 The Pinzgauer cattle on Scot Laney's Canby farm stem from an Austrian breed. Laney said the cattle at his farm are one of the few purebred types left in the country. Laney is part of the growing Farm-to-Fork movement, to which such companies as food service company Bon Appetit Management have subscribed. Click through for a look at Bon Appetit's recent Eat Local Challenge, which fed such eaters as Lewis & Clark students as well as Intel Corp. employees at Ronler Acres.
Far from the slop associated with many corporate and college cafeterias, a food service company is giving workers and students a healthy taste of locally sourced eats.
The Bon Appétit Management Co. held its ninth annual Eat Local Challenge, at which its chefs served meals that are fully locally sourced, last week. The challenge, which provided fresh grub to Lewis & Clark College students as well as the area's Intel Corp. and Adidas America employees, extends to breads and sweeteners.
---
Local heroes: How Bon Appetit goes from farm to fork
---
In the Portland area, Chef Scott Clagett led the drive to craft two kinds of ravioli, made from Shepherd's Grain flour (based in Portland) and eggs collected from Laney Farm. The Laney operation also supplied the beef, from Pinzgauer cattle, for the dish's carnivore version (Clagett and such team members as Derek Webb also whipped up a scrumptious vegetarian version with butternut squash and chevre).
The ravioli were topped with several melt-in-your-mouth locally hunted oyster mushrooms.
"People just feel better when they eat fresher food," said Clagett.
Bon Appétit, a $700 million company based in Palo Alto, Calif., has pledged to source at least 20 percent of its food from smaller local farms. For Northwest accounts, the figure regularly exceeds 25 percent.
The group operates 500-plus cafes in 32 states, including spots at Intel, Adidas and Starbucks' Seattle headquarters. Its clients also include eBay — which participated in Bon Appétit's "Low Carbon Day" cooking event this year — and Google.
Reed College students also eat the company's food along with their Lewis & Clark peers.
Comments
If you are commenting using a Facebook account, your profile information may be displayed with your comment depending on your privacy settings. By leaving the 'Post to Facebook' box selected, your comment will be published to your Facebook profile in addition to the space below.