GoGreen conference attracts stars from business, activist worlds (Photos)
By Andy Giegerich
Digital Managing Editor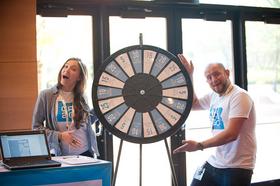 The click-click-click of Car2Go's prize-giving wheel provided a steady soundtrack during GoGreen '13, which took place Tuesday in Portland. Car2Go was one about a dozen spirited exhibitors. Click through for scenes from GoGreen's Portland edition.
"We can be businesses, and, we can care. That's what we do." So said Supportland founder Katrina Scotto Di Carlo, who, in leading a panel of entrepreneurial storytellers, neatly summed up the vibe at Tuesday's GoGreen '13 Portland conference.
---
GoGreen: Check out some scenes from the 6th annual business conference
---
Scotto Di Carlo was one of some 450 attendees who landed at the Oregon Convention Center for the event, which featured a powerhouse lineup of speakers from the business, environmental activist and government realms.
Portland Mayor Charlie Hales gave a post-lunch speech, New Seasons' Wendy Collie shared a dais with sustainability mainstay Nic Blosser, Multnomah County's acting chair Marissa Madrigral made one of her first public appearances in her new role.
And while students and younger professionals bustled throughout the conference, GoGreen '13 also attracted its share of older workers intent on earning about such movements as B Corps certification and social equity investing programs.
A few highlights:
Closing speaker Mark Mykleby, a retired Marine colonel, advised the military's top brass four years ago that "sustainability has to become a national strategic imperative." During a captivating speech, Mykleby also exhorted attendees to avoid pouring resources into simply maintaining the status quo.
One PacifiCoast's CEO Kat Taylor introduced herself at a B Corps panel by singing the company's jingle. Not just singing, but belting, very tunefully at that. She drew a spirited round of applause.
Along with Scotto Di Carlo, the storytellers' panel featured such presenters as Spooltown's Dana Hinger and Sara Tunstall. The small sewing company models its production facility partly on Tillamook's cheese factory, where visitors can watch the process. "Visible manufacturing" better connects customers to product," said Tunstall.
Skanska's Steve Clem tossed out the term "glocal," referring to items that balance local and global impacts.
Intel Corp.'s John Harland revealed that Texas Instruments' LEED-certified offices helped inspired Intel to take the company's commitment up a notch. That's why the new Intel fab in Hillsboro will be built to LEED specifications.
Energy Trust's Margie Harris recalled that there "used to be"no line for women at energy conferences just a few years ago." That's changed: Judging by the GoGreen '13 attendance, the mix is now 50-50 or better.
Comments
If you are commenting using a Facebook account, your profile information may be displayed with your comment depending on your privacy settings. By leaving the 'Post to Facebook' box selected, your comment will be published to your Facebook profile in addition to the space below.