Good spores: Mushroom growers win Lewis & Clark venture prize
By Andy Giegerich
Digital Managing Editor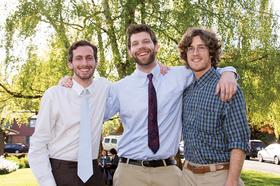 Zachary Tobias, Ryan Bubriski and Will Fortini took home Lewis & Clark's first venture prize.
A trio of fledgling mushroom growers has captured the top prize in Lewis & Clark College's first venture competiton.
Portland Mushroom Co., run by three 2012 Lewis & Clark grads, took home the first prize of $20,000 in the competition last week. Portland Mushroom Co. uses what it calls "sustainable, locally sourced practices and materials to grow high-end oyster mushrooms."
The team of Ryan Bubriski, Will Fortini and Zachary Tobias make up Portland Mushroom's brain trust.
RootED Recovery, a clinical mentoring program for adults with eating disorders, won the $10,000 second-place prize.
Lewis & Clark recently opened its Entrepreneurship Center.
The Portland Mushroom Co. operates out of Sellwood. It provides fresh, organic oyster mushrooms to several restaurants in Portland, often delivering the goods the same day they're harvested.
The company plans to soon offer other coveted culinary mushrooms such as maitake, lion's mane and enoki.
Comments
If you are commenting using a Facebook account, your profile information may be displayed with your comment depending on your privacy settings. By leaving the 'Post to Facebook' box selected, your comment will be published to your Facebook profile in addition to the space below.