Hammer & Hand launches clean design contest for young architects
By Andy Giegerich
Digital Managing Editor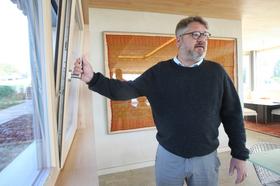 Sam Hagerman, an owner of Hammer & Hand, is one of the judge's in the company's green design contest for young architects.
A new Hammer & Hand design competition aims to spur architecture interns and students to new heights.
The perFORM 2014 event will award prizes based on whether entrants can deliver "compelling high-performance structures." Contenders will submit designs for a single-family house in Seattle that would try to achieve a low-load energy use intensity.
"We developed this design competition to both support young designers and demonstrate that 'high design' goes hand-in-hand with 'high performance,'" said Daniel Thomas, Hammer & Hand's co-owner. "I'm eager to see the solutions that this new generation of architects creates."
Judges include Daniel Friedman of the University of Washington Department of Architecture, Jim Graham of Graham Baba Architects, Hammer & Hand's Sam Hagerman, Gladys Ly-Au Young of Sundberg Kennedy Ly-Au Young, Robert Peña of Integrated Design Lab, Jeffrey Stuhr of Holst Architecture and Daniel Thomas of Hammer & Hand.
Individual winners will get $1,000 while a group category will award winners $2,000. The results will be revealed April 22, which is Earth Day.
Comments
If you are commenting using a Facebook account, your profile information may be displayed with your comment depending on your privacy settings. By leaving the 'Post to Facebook' box selected, your comment will be published to your Facebook profile in addition to the space below.