Hit The New Brew for the lowdown on green ale-making
By Andy Giegerich
Digital Managing Editor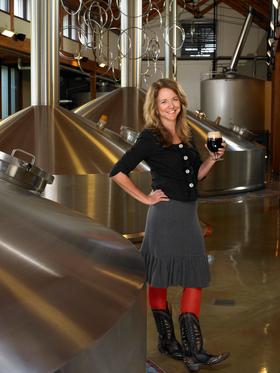 Kim Jordan, CEO of New Belgium, will share insights during the upcoming New Brew event at PSU.
Want to get the goods on how the leading sustainable craft beer makers ply their trade?
An upcoming Portland State University program will explore that very issue. The event, called The New Brew, is part of the university's Portland State of Mind series of programs, billed as community celebrations, that run between Oct. 18 and Oct. 27.
New Belgium Brewing's CEO Kim Jordan and Hopworks Urban Brewery's Brewmaster and Owner Christian Ettinger will disclose their secrets on how they've built socially, environmentally and economically sustainable businesses in the competitive craft brewing sector.
(Disclosure: SBO is a program host.)
The event costs $10 for the general public, $5 for PSU students, faculty and staffers.
Comments
If you are commenting using a Facebook account, your profile information may be displayed with your comment depending on your privacy settings. By leaving the 'Post to Facebook' box selected, your comment will be published to your Facebook profile in addition to the space below.