IKEA hopes solar sales will energize its bottom line
By Andy Giegerich
Digital Managing Editor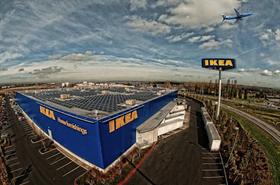 IKEA plans to sell solar panels such as those that sit atop its Cascade Station location.
IKEA is heading full-on into the solar panels sales market.
The furniture and home accessories stalwart, which has a popular store at Portland's Cascade Station, has launched a residential solar panel sales division in Britain. Whereas the sales began at a Southampton store on Monday, IKEA eventually hopes to include the product in each of its stores.
The IKEA solar panel system sells for about $9,000. The company is also supplying a crew to install and monitor the system.
IKEA U.S. President Mike Ward told the Retail Sustainability Conference this week that the company is committed to green principles.
"At IKEA, sustainability is at our core," he said. "We want our business to have a positive impact on the world. Our new strategy, 'People and Planet Positive,' was created for us to realize our full potential and help people live a sustainable, affordable life at home. Developing sustainable business models is essential to making this happen."
Comments
If you are commenting using a Facebook account, your profile information may be displayed with your comment depending on your privacy settings. By leaving the 'Post to Facebook' box selected, your comment will be published to your Facebook profile in addition to the space below.