Lisa Sedlar debuts Kenton's Green Zebra Grocery
By Wendy Culverwell
Staff Reporter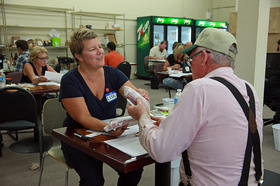 Cathy Cheney | Portland Business Journal
Lisa Sedlar interviews Dan Wilson of Su Dan farm about selling grass fed lamb at Green Zebra Grocery. Green Zebra opens its first location Tuesday in North Portland.
Portland's latest grocery concept launches Tuesday as Lisa Sedlar opens the first edition of Green Zebra Grocery.
Sedlar, the former CEO of New Seasons Market, is launching a chain of small-form groceries that brings high quality, sustainably-produced foods to a convenience store format.
The debut Green Zebra launches Oct. 8 in Kenton at 3011 N. Lombard St. in a building that was originally constructed for Safeway. The opening date was pushed back from Sept. 25.
Sedlar intends to open additional locations on Southeast Division Street and on Southeast Woodstock Boulevard, with more locations in the pipeline.
Check out the Business Journal's Q&A with Lisa Sedlar, together with photos of the store when it was under construction.
Comments
If you are commenting using a Facebook account, your profile information may be displayed with your comment depending on your privacy settings. By leaving the 'Post to Facebook' box selected, your comment will be published to your Facebook profile in addition to the space below.