Obama official wants to replicate Oregon farm-to-school successes nationwide
By Andy Giegerich
Digital Managing Editor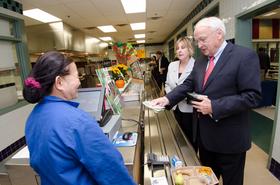 U.S. Department of Agriculture via Wikimedia Commons
Under Secretary for Food, Nutrition and Consumer Services Kevin Concannon (right), who regularly visits school cafeterias to check in on their offerings, said Oregon is a national leader in the farm-to-school movement.
A top Obama Administration food official told SBO Wednesday that farm-to-school efforts are paying off especially big in Oregon.
Kevin Concannon, the former Oregon Health and Human Services director who's now the U.S. Agriculture Department's Under Secretary for Food, Nutrition and Consumer Services said in a phone interview that 68 percent of Oregon schools have farm-to-school programs, or strategies that both utilize food from local sources while educating students as to how the food is cultivated. Administrators at another 9 percent of schools plan to add such programs in the near future.
Nationally, just 43 percent of public school districts offer farm-to-school services. Another 13 percent plan to add the option.
"Oregon is clearly a leader in this movement," Concannon said.
He's familiar with such farm-to-school programs as the detailed Urban Gleaners offering that's fed and educated thousands of children around Portland. Ecotrust also oversees a farm-to-preschool program.
We caught up with Concannon, who led Oregon's HHS Department between 1987 and 1995, to hear a bit more about how the Ag Department is not only touting farm-to-school offerings but hopes to add similar programs to every school nationwide.
Sustainable Business Oregon: Why is Oregon's farm-to-school rate, meaning, the percentage of these programs offered in our schools, so high?
Concannon: Someone asked whether it has to do with red states versus blue states. That doesn't matter. States in the western part of the country are more foodie-oriented and are interested in where food comes from, as well as the sustainable practices used in locally produced foods. This reflects the values that Oregonians subscribe to.
Comments
If you are commenting using a Facebook account, your profile information may be displayed with your comment depending on your privacy settings. By leaving the 'Post to Facebook' box selected, your comment will be published to your Facebook profile in addition to the space below.