Oooooh, scaaaary: These 'Sustainability Nightmares' haunt SBO readers (Photos)
By Andy Giegerich
Digital Managing Editor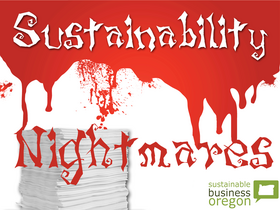 Mason Walker | Sustainable Business Oregon
Aaaaaaagh! Click through the gallery to take a gander at some Portland business leaders' most vivid "Sustainability Nightmares," all of which also play out during their waking hours.
Boo! Shriek! Scream!
In celebration of what those in the olden days called All Hallow's Eve, we asked business leaders to offer up every-day instances related to sustainability matters that scare the living daylights out of them.
---
Sustainability Nightmares: Oregon business leaders share their haunting stories
---
These "Sustainability Nightmares," which apply to both home and work settings, include:
Finding large volumes of unclaimed documents atop the office printer.
Eaters who order their grub in compostable take-out containers, eat their food in the restaurant and then toss the containers in a landfill bin.
Wasteful holiday decorations made of chemical-laden materials for such occasions as ... Halloween.
Click through on the photo above for more of our Sustainability Nightmares. You're sure to find an ample supply of both tricks and treats.
And, naturally, we're hoping you'll share your own Sustainability Nightmares either in the comment section below or on Twitter. Look for them at #SustainabilityNightmares throughout the day.
Comments
If you are commenting using a Facebook account, your profile information may be displayed with your comment depending on your privacy settings. By leaving the 'Post to Facebook' box selected, your comment will be published to your Facebook profile in addition to the space below.