Oregon environmentalists, food groups stunned by GMO vote
By Andy Giegerich
Digital Managing Editor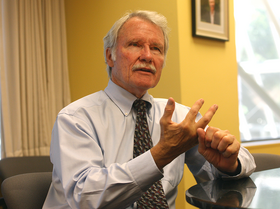 Cathy Cheney | Portland Business Journal
Environmental groups will push Oregon Gov. John Kitzhaber to craft statewide anti-GMO rules after losing a policy battle during this week's special session.
Environmental groups and local food activists are livid that a provision they believe would allow more genetically modified organisms to creep into Oregon farms sailed through the state's legislature on Wednesday.
Senate Bill 863 was added to the state's revamped budget package that lawmakers approved during this week's special session.
The measure calls for a statewide Oregon policy on the origin of seeds and crops, as opposed to policies being implemented by cities or counties.
Opponents have called it the "Monsanto Protection" act and questioned how the matter made it into legislation designed to help resolve Oregon's schools funding, and retiree benefit, issues.
"The rights of farmers to protect their crops from unwanted GMO contamination and the rights of consumers to make informed purchases should never have been at issue during a special session dealing with PERS and revenue reform," said the Oregon Environmental Council, the Oregon League of Conservation Voters and five other groups in a statement released Wednesday night. "Trading away environmental protections in unrelated legislative negotiations is an all too common practice that's bad for not just democracy but also the people of Oregon.
"Unfortunately, the PERS and revenue reform package included SB 863, which prohibits local communities from taking action to address issues related to their food and agriculture system, including conflicts related to genetically modified organisms."
The groups said Gov. John Kitzhaber, despite pledging to sign each of the five measures passed Wednesday, does want to craft a statewide policy that thwarts GMO crops by June 2014.
Comments
If you are commenting using a Facebook account, your profile information may be displayed with your comment depending on your privacy settings. By leaving the 'Post to Facebook' box selected, your comment will be published to your Facebook profile in addition to the space below.