SBO's Best of October: We 'liked' Facebook, 'went' GoGreen and 'asked for' Toyota (Photos)
By Andy Giegerich
Digital Managing Editor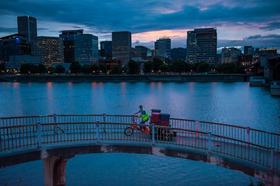 Riding into the sunset certainly isn't on the docket at bike designer Bill Stites' company. Nonetheless, the "Trike Bikes" are pretty cool no matter where its riders take them. The Stites story was one of our favorites this month among SBO's team. Click through for more of our favorite people, companies and products.
It was an eventful, and more than a little entertaining, month here on the Sustainable Business Oregon desk.
For starters, we caught an up-close glimpse of Bill Stites' outrageous three-wheeled "Trike Bikes," that can haul up to 600 pounds. We were impressed with Stites' gumption and his company's potential.
We also were mesmerized by Portland Roasting's very-sustainable Southeast Portland Roasting site, as well as Cha Cha Cha's plans to become inarguably the most sustainable Mexican chain restaurant in the world.
The team at Facebook also let us look at the inner workings of their energy-efficient data center. The GoGreen conference illuminated us as to future business practices across all sectors. And as the Timbers prepare to plow through their MLS playoff opponents starting this weekend, we learned why Jeld-Wen Field is a monument to clean remodeling technology.
Click through on the picture above for a look at some of our favorite stories during the month of October.
Comments
If you are commenting using a Facebook account, your profile information may be displayed with your comment depending on your privacy settings. By leaving the 'Post to Facebook' box selected, your comment will be published to your Facebook profile in addition to the space below.