Port of Vancouver set for Tesoro re-vote
By Andy Giegerich
Digital Managing Editor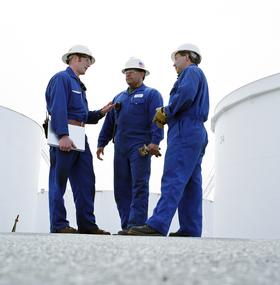 The Port of Vancouver plans to reconsider a lease agreement for an oil-by-rail terminal on the Columbia River on Tuesday.
The Portland's Board of Commissioners will examine a lease with the Tesoro Savage Petroleum Terminal. The terminal's ground lease that's being considered is the same document the commission approved in July.
Those objecting to the lease had protested the Port's use of an executive session during a workshop leading up to the vote. Todd Coleman, the Port's CEO, said while the use of an executive session was appropriate, the commission opted to take another vote on the matter in the interest of transparency.
Tesoro wants to bring North American crude oil to the port by rail. It would then transfer the oil to marine vessels to be transported to West Coast refineries.
Three public interest groups — Columbia Riverkeeper, the Northwest Environmental Defense Center and the Sierra Club — had challenged the Port's earlier decision under the Washington Open Public Meetings Act.
"An Exxon-Valdez type spill from a supertanker or oil train would devastate the Columbia River," said Brett VandenHeuvel, executive director for Columbia Riverkeeper, in a release. "Our region deserves a vigorous debate about whether we want dirty oil."
Comments
If you are commenting using a Facebook account, your profile information may be displayed with your comment depending on your privacy settings. By leaving the 'Post to Facebook' box selected, your comment will be published to your Facebook profile in addition to the space below.