Portland Roasting bringing home the eco cups (Photos)
By Andy Giegerich
Digital Managing Editor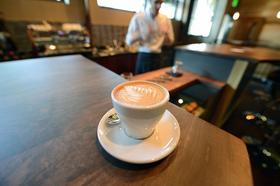 Portland Roasting has begun using a sophisticated sustainability measurement system developed with input from Mark Stell, the company's managing partner. Click through for a look at some of the company's other eco-conscious touches at its Southeast Portland headquarters and at least one of the company's African outposts.
As its new cafe helps Portland Roasting ingratiate itself with its inner Southeast Portland neighbors, the company continues to amp its commitment toward operating responsibly.
---
Black gold: Take a virtual tour of Portland Roasting's S.E. Portland facility
---
To that end, Portland Roasting is touting its use of the Sustainability Tracking and Reporting Tool, or START analysis program, to which Portland Roasting's founder Mark Stell provided critical insight.
The tool allows Portland Roasting to track such green metrics as the total carbon emissions produced, company-owned vehicle fuel usage, onsite natural gas usage, electricity consumed and even employee-owned vehicle fuel usage.
START also provides closer looks at waste management, a key component of a roster's operations, along with carbon effects from business travel.
Portland Roasting was an early adopter of the START program, which Stell and others developed through their work with the Specialty Coffee Association of America.
"It allows us to track every component of energy usage all the way back to the farms" that supply Portland Roasting's beans, said Andy Davis, a Portland Roasting spokesman. And because START encourages transparency, "It allows us to show the fruits of our efforts."
Stell was a driving force in the START program, on which he worked for six years through the SCAA's sustainability council.
Portland Roasting's sustainable practices have come into the spotlight as the company shows off its new cafe, in Portland's Central Eastside Industrial District. The cafe is giving the company a higher profile in the neighborhood, which is attracting more visitors as it welcomes more creative services companies and restaurants.
Comments
If you are commenting using a Facebook account, your profile information may be displayed with your comment depending on your privacy settings. By leaving the 'Post to Facebook' box selected, your comment will be published to your Facebook profile in addition to the space below.