SolarWorld makes exec switches, preps for Hillsboro moves
By Andy Giegerich
Digital Managing Editor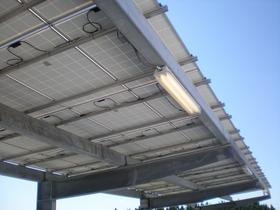 SolarWorld AG supplied the panels for Kaiser's Hillsboro facility. SolarWorld's undergoing major administrative changes as it consolidates its operations in Hillsboro.
SolarWorld AG has swapped out top U.S. executives as the company prepares to combine its U.S. operations into its Hillsboro site.
The Oregonian confirmed yesterday that Gordon Brinser will be replaced by former U.S. vice president Mukesh Dulani as the company's top U.S. executive. Brinser will remain with the company, SolarWorld spokesman Ben Santarris told the Oregonian.
Kevin Kilkelly, who'd the company's sales and marketing programs, is also no longer with the company.
SolarWorld is undergoing a major global restructuring.
The company employs 600 workers in Hillsboro.
Greentech Media, a renewable energy blog, uncovered evidence of the changes on Tuesday.
Comments
If you are commenting using a Facebook account, your profile information may be displayed with your comment depending on your privacy settings. By leaving the 'Post to Facebook' box selected, your comment will be published to your Facebook profile in addition to the space below.