The lay of the landscapers: Meet some of Oregon's top green exterior pros (Photos)
By Andy Giegerich
Digital Managing Editor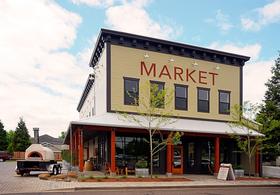 Aspen Creek Landscaping Inc.'s Red Hills Market, in Dundee, has no grass, low water requirements, permeable pavers (all gutters run into the paver base, which eliminates the need for storm water connections), native plants, many edible plants (apples, strawberry, blueberry, grape, fig and huckleberry), plants with low water requirements (all watered with drip irrigation), a bocce court and a neighbor-friendly pass through. In short, it's folksy, yet very cool. Click through for more shots of Oregon landscapers' sustainable handiwork.
It absolutely makes sense that Oregon's landscapers want to transform a field that's known for using liberal amounts of water and decidedly un-eco touches to decorate clients' backyards.
---
Yards etc.: Meet some of Oregon's top sustainably minded landscaping companies
---
There's Autumn Leaf Landscaping Inc., which filled a request for a massive rainwater harvest tank with ease. Aspen Creek Landscaping Inc. made Dundee's Red Hills Market look like the backdrop for a Grant Wood painting, if Grant Wood had channeled Bill McKibben.
Winterbloom Inc. turned an ugly parking area into a sustainable marvel (the secret, it turns out, was rocks) while DeSantis Landscapes used permeable pavers and turfstone to convert a ditch into a captivating bioswale.
Click through for a tour of area homes and businesses as seen through the lens of their landscaping companies that, when asked and sometimes when they're not, can easily find sustainable solutions for their clients.
Comments
If you are commenting using a Facebook account, your profile information may be displayed with your comment depending on your privacy settings. By leaving the 'Post to Facebook' box selected, your comment will be published to your Facebook profile in addition to the space below.