Timbers look to boost Jeld-Wen's clean profile (Photos)
By Andy Giegerich
Digital Managing Editor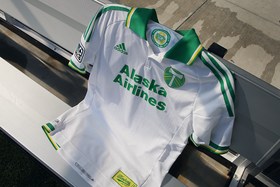 Cathy Cheney | Portland Business Journal
The Portland Timbers third kit, an alternate jersey made by Adidas, is made from such repurposed materials as recycled bottles and other reused goods. The kit's makeup neatly illustrates the team's commitment to operating responsibly, officials say. Click through for more examples of how the Timbers have operated sustainably, as well as ways the team will look to become more eco-conscious.
After clinching a Major League Soccer playoff spot, the Portland Timbers are set to make major off-the-field advances as well.
The team, which had procured LEED-Silver status for the remodeled Jeld-Wen Field in 2011, plans to amp its sustainability commitment in the coming year. Specifically, the Timbers hope to increase the amount of trash Jeld-Wen Field workers divert from landfills from 80 percent to 90 percent.
---
Timbers are kickin' it green-style: A look at Jeld-Wen Field's sustainability programs
---
To get there, the team is exploring ways to compost more refuse that's collected from the stands after Jeld-Wen events.
"Sustainability's always been important to the organization," said Mike Golub, the Timbers Chief Operating Officer. "It's important to our supporters and to our partners. It's something that's part of our ethods. We want to reflect what's important to the community."
The Timbers secured the franchise's first-ever MLS playoff slot last Saturday and are in the hunt for both the Supporters Shield honor as the league's top regular season team as well as the Western Conference's top playoff seed. The playoffs start next month.
The Portland Thorns, which captured the National Women's Soccer League's first title in September, have also won accolades for "acting as stewards for positive environmental practices."
"Sustainability is a service point for us," said Brian Kennedy, the team's housekeeping manager who oversees the Timbers environmental work. "We're finding new ways to think about it."
Jeld-Wen Field includes an array of energy-efficient lighting, low-flow plumbing fixtures, recycling stations and composting programs. The team also subsidizes mass transit programs and provides parking for hundreds of bikes.
Comments
If you are commenting using a Facebook account, your profile information may be displayed with your comment depending on your privacy settings. By leaving the 'Post to Facebook' box selected, your comment will be published to your Facebook profile in addition to the space below.