Well and Green: Meet Oregon's healthiest employers (Photos)
By Andy Giegerich
Digital Managing Editor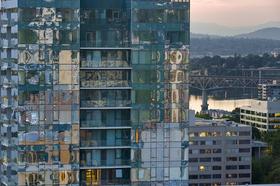 Ankrom Moisan Architects, which is an honoree at this week's Healthiest Employers of Oregon event, also fared best in SBO's recent list of top LEED architecture firms. The company employs 48 LEED-leaning architects who've worked on such efforts as The Ramona apartment complex. You might say Ankrom Moisan spreads the health: The Ramona features a 31,000-square-foot eco-roof and filter in the courtyard that, by treating 100 percent of the site's stormwater, keeps the building's tenants healthy as, back at its offices, the firm provides wellness options to its team. Click through for more healthy employers who fall into the "green" category as well.
In the year or so that I spent covering the Portland Business Journal's health beat, I could count on at least three pitches a week from plans and employers looking to tout their wellness programs.
---
Healthiest (and greenest) employers: A look at sustainably and health-minded PBJ honorees
---
These pitches (in civilian terms, these are requests for press coverage from PR and marketing representatives) included details such as on-site yoga classes, massages, nutrition education programs and the like. I created an email folder for these pitches with the sincere intent of one day writing a roundup story detailing the most innovative ideas.
I then promptly moved over to my SBO job.
And I didn't think too much about wellness programs again until this week, when our event honoring the Healthiest Employers of Oregon takes place. There are still tickets available for tomorrow's series of programs.
It's a swell program in which 57 companies will vie for awards. We're expecting more than 350 attendees for the luncheon. We're also hosting three hours of hands-on wellness and HR workshops. Your ticket to the luncheon gets you access to the sessions.
The Portland Business Journal has a look at all of this year's honorees, in alphabetical order. At SBO, we decided to spotlight a few of the honorees that also, in some shape or form, have made inroads in both the green and wellness arenas. Click through on the picture above to meet some of those well and good and green businesses.
Comments
If you are commenting using a Facebook account, your profile information may be displayed with your comment depending on your privacy settings. By leaving the 'Post to Facebook' box selected, your comment will be published to your Facebook profile in addition to the space below.