With patent in hand, $4M fundraise, Puralytics is cleaning up
By Andy Giegerich
Digital Managing Editor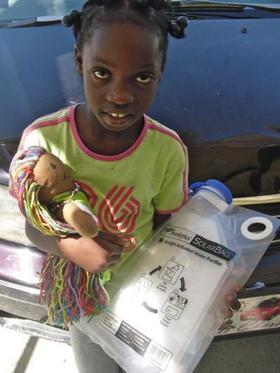 Puralytics' water purification systems are distributed to governments and aid organizations that work in such countries as Haiti.
A Beaverton-based company that purifies water through its own finely honed and proprietary systems has two major wins during the last month.
Puralytics landed its first patent for its systems that destroy water contaminants without yielding any waste discharge. Puralytics procured the patent for its LED Activated Nanotechnology Water Purifier.
Puralytics has marketed its LED and sunlight activated nanotech products since early 2012. Those products, aimed at government and aid organizations among other groups, including the Shield, SolarBag and the LilyPad.
The achievement follows Puralytics' September confirmation, through forms filed with the Securities & Exchange Commission, that it has attracted $3.7 million worth of Series A investments, on what could become a total $4.9 million fund raising effort.
The round consists of equity and two kinds of options.
Company officials noted that the patent could mean big things for Puralytics, a finalist at the 2012 Cleantech Open.
"This is a cornerstone patent for us," said George Jendrzejewski, the company's vice president of sales. "It's one of the initial patents we applied for and it's focused broadly on our technology and its applications, including both the LED and sunlight formats."
Puralytics sells its products in more than 50 countries. It earned the International Water Association's Global Honor Award in early September.
Puralytics' process depends on either sunlight or LED light to stimulate a nanotechnology-coated mesh activating five photo chemical processes to eliminate three major categories of contaminants, including biological pathogens, chemical contaminants and heavy metals toxins.
The patent covers the method and apparatus of purifying water.
Comments
If you are commenting using a Facebook account, your profile information may be displayed with your comment depending on your privacy settings. By leaving the 'Post to Facebook' box selected, your comment will be published to your Facebook profile in addition to the space below.