Adidas, Nike take issue with Greenpeace's 'Detox Catwalk' listing
By Andy Giegerich
Digital Managing Editor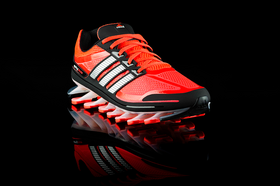 adidas America officials say it uses sustainable practices to make its Springblade red footwear and other lines.
Local apparel companies are calling foul on one of the world's most prominent environmental groups that called the businesses "greenwashers" and "laggards."
Adidas America and Nike Inc. officials said Greenpeace International's "Detox Catwalk" platform incorrectly includes the companies on a list of businesses that aren't meeting the activist group's chemical discharge and transparency standards. The Greenpeace Detox campaign wants fashion brands to commit to zero discharge of all hazardous chemicals by 2020 as well as require their suppliers to disclose toxic chemical releases that could have caused water pollution.
The Greenpeace effort calls Adidas, Nike Inc. and Li-NIng "greenwashers" that failed "to effectively follow through" on Detox requirements.
"Greenwashers like Nike and Adidas would do well to look to Detox trendsetters such as Mango and UNIQLO that are responding to the urgency of the global water crisis," said Ilze Smit, a member of Greenpeace's Detox campaign team. "These leaders are already working to lead a transparency revolution in their supply chains and eliminate the worst chemicals from their products and production processes."
Adidas and Nike officials say the criticism makes no sense.
"The Adidas Group is globally recognized as a leader in environmental sustainability," the company wrote. "In fact, we have been ranked by the Institute of Public and Environmental Affairs, a Greenpeace partner, as one of the four top performing brands in our industry in China."
The company pointed to its own Restricted Substances Policy for product materials that prohibit the use of chemicals considered as harmful or toxic, as well as its Health & Safety Guidelines, Environmental Guidelines and the Guide to Best Environmental Practices that set standards for suppliers on handling and disposing chemicals.
Comments
If you are commenting using a Facebook account, your profile information may be displayed with your comment depending on your privacy settings. By leaving the 'Post to Facebook' box selected, your comment will be published to your Facebook profile in addition to the space below.