Bettery lines up second heavy-hitting retailer
By Andy Giegerich
Digital Managing Editor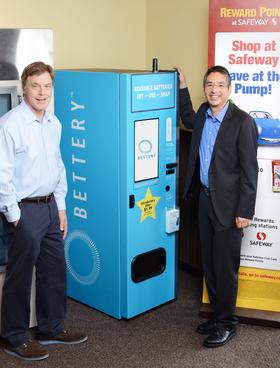 Bettery founders Bill Coleman (left) and Charlie Kawasaki hope the Safeway agreement will lead to more installations nationwide.
The Portland outfit that hopes to revolutionize the rechargeable battery market has lined up a major retailer as its next partner.
Bettery Inc. has opened kiosks in five Safeway stores in the Seattle area and Portland. The move could be just the beginning: Both Bettery's Charlie Kawasaki and Safeway's Steve Frisby said the idea is very scalable to other Safeway locations.
"From an operations standpoint, we could potentially accommodate a Bettery kiosk in many of our store locations," said Frisby, who's Safeway Inc.'s Northwest division president.
The Bettery kiosks are in stores at 10020 N.E. 137th St. in Kirkland, 1410 E. John St. in Seattle, 300 Bellevue Way N.E. in Bellevue and 17246 Redmond Way N.E. in Redmond.
In Portland, Safeway is testing a kiosk at 4515 S.E. Woodstock Blvd. The kiosk has been in place since Friday.
Safeway (NYSE: SWY) has 1,415 locations in the U.S.
Bettery also offers kiosks in five Portland and Seattle Whole Foods stores.
Bettery's Swap Stations allow for easier exchanges and purchases of rechargeable AA and AAA batteries that the company produces. The kiosks also collect batteries for recycling.
More than 2.5 billion household batteries are tossed away each year.
"Safeway has worked with us to make the kiosks available in locations we thought would be great for Bettery," said Kawasaki, Bettery's founder and CEO. "We're pleased about it. And Safeway has expressed an interest in opening (kiosks) beyond" the five locations.
Kawasaki has said he wouldn't mind Bettery eventually growing to the scale of the Red Box DVD kiosks, of which 29,000 exist.
Comments
If you are commenting using a Facebook account, your profile information may be displayed with your comment depending on your privacy settings. By leaving the 'Post to Facebook' box selected, your comment will be published to your Facebook profile in addition to the space below.