Brammo's Bramscher sets 2015 IPO goal, targets Tesla investors
By Andy Giegerich
Digital Managing Editor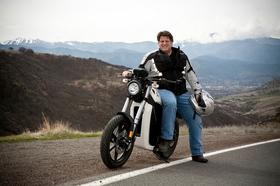 Brammo's Craig Bramscher told Portland Business Journal Power Breakfast attendees that he wants to take his electric motorcycle company public by mid-2015.
Brammo's Craig Bramscher told business leaders Thursday that his electric motorcycle company is looking to go public by the middle of 2015.
Bramscher said Talent, Ore.-based Brammo is meeting with some of the same investment bankers that helped take the Tesla motor company public.
"It's always next year, but Tesla showed there's an appetite for it," Bramscher said. "I'm hoping to do it late next year or in the middle of 2015."
Bramscher had revealed in summer 2012 that he wants to take the company public. Whereas he reportedly sought $1 billion a year ago, Bramscher put his newest fundraising target at $150 million from private and, eventually, $150 million from the public side.
Currently, Brammo's execs are raising funds to achieve profitability before the company hits Wall Street.
Oregon has had one IPO, Erickson Air-Crane Inc., since 2004. Several other companies are discussing the notion.
Bramscher, speaking to a crowd of about 150 Portland Business Journal Power Breakfast attendees, also said he could one day follow through on his original plans to produce an electric car. An EV prototype that's about 85 percent done currently sits in an Ashland-area storage facility.
Upon selling the Dream Media tech company and making a mint, Bramscher set out to build an electric car for what he calls "pro athlete-sized" clients before hitting on the motorcycle idea.
"I thought, when I sold Dream Media on my very lucky day with the stock market, I thought I'd buy a 'super-car,'" said Bramscher, himself a large man. "It turned out my 'petiteness' wouldn't fit into a Lambourgini or a Ferrari."
Comments
If you are commenting using a Facebook account, your profile information may be displayed with your comment depending on your privacy settings. By leaving the 'Post to Facebook' box selected, your comment will be published to your Facebook profile in addition to the space below.