Brammo's Craig Bramscher on fundraising, fast bikes and his Talent base
By Andy Giegerich
Digital Managing Editor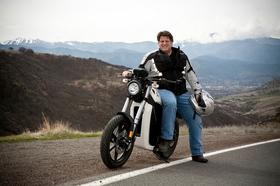 Brammo boss Craig Bramscher will speak at Thursday's Portland Business Journal Power Breakfast.
It'd be great if Brammo Inc.'s Craig Bramscher zoomed into Thursday's Portland Business Journal Power Breakfast riding one of his company's Empulse EV motorcycles.
However, Bramscher didn't get to where he is by showing off. The 52-year-old entrepreneur has instead subtly helped establish a growing hub — the electric vehicle sector — in a state that embraces such ingenuity.
Along the way, Brammo has raised $17 million over the last two years and placed its bikes on premier motorcycle racing circuits.
We caught up with Bramscher in advance of his Portland appearance (tickets are available here) to talk about fundraising, racing and the company's recent move from Ashland into the town of Talent.
Sustainable Business Oregon: You've had a good year, particularly on the fundraising front. How are you spending the $4.5 million you collected in April? And how has that augmented the $13 million you collected last year?
Craig Bramscher: However much we raise its never enough for the growth that we can see ahead. Obviously creating a world class electric vehicle team here in Oregon requires continuous investment to support our rate of innovation.
In particular our research and development in the field of battery technology is continually growing and generating intellectual property, which will account for a significant amount of Brammo's future value.
SBO: To what extent has the Empulse's racing profile helped out the Brammo brand? Has it, say, brought respect from your gas-engine peers?
Bramscher: As reigning electric World Champions I can confirm that racing contributes in a number of key ways. Firstly, it accelerates the development of critical technology. When you commit to a race series then we absolutely have to show up and race on a certain day at a certain time. There are no slipping deadlines.
Comments
If you are commenting using a Facebook account, your profile information may be displayed with your comment depending on your privacy settings. By leaving the 'Post to Facebook' box selected, your comment will be published to your Facebook profile in addition to the space below.