DePaul spinning out for-profit B Corps to ramp up social mission
By Lee van der Voo
Contributing Reporter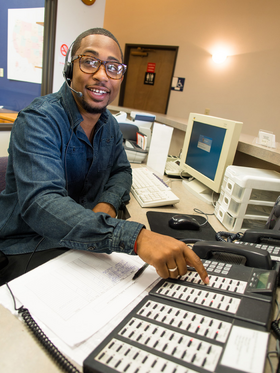 Courtesy of DePaul Industries
DePaul Industries has operated a staffing service for 20 years, helping corporations fill gaps in administrative and clerical work. Click through the gallery for a closer look at DePaul's social ventures.
DePaul Industries will register two benefit corporations — both LLCs — in January, spinning the nonprofit organization's long-running staffing and food packaging endeavors into separate entities.
The move comes as DePaul stands poised for a significant expansion, looking to export its unique social mission across the United States and into international markets.
---
Social enterprise: A tour through DePaul Industries' uplifting ventures
---
DePaul has a 40-year history of finding jobs for disabled workers and for those with barriers to employment. The nonprofit has spent the last 10 years targeting gaps in the business sector to create those jobs, building a much-needed food packaging service on North Portland's Hayden Island in what's now become a key component of its employment strategy. DePaul also supplies clerical and administrative workers to metro-area companies through its staffing service. The staffing service also operates a security division, providing security officers to corporate business parks, summer concerts, hospitals, offices and other facilities.
All of those industries were targeted by DePaul for their high labor content and the demand for services. And DePaul's success employing people with disabilities in those markets is enabling it to lead what could become a nationwide shift in the way that companies hire disabled workers, a goal of its board of directors since 2010.
"To find jobs for individuals, you go where the jobs are," said CEO Dave Shaffer, a philosophy that led DePaul to target gaps in the food packaging supply chain and the temporary needs of corporations.
Comments
If you are commenting using a Facebook account, your profile information may be displayed with your comment depending on your privacy settings. By leaving the 'Post to Facebook' box selected, your comment will be published to your Facebook profile in addition to the space below.