Military prepares for recon on electric vehicle markets
By Lee van der Voo
Contributing Reporter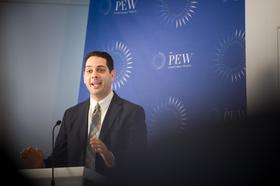 The Pew Charitable Trusts/Liz Lynch
Camron Gorguinpour believes the U.S. military will begin adding droves of EVs to its non tactical auto fleet.
The U.S. military is one of the largest energy consumers on the planet.
And while its top-secret labs are probing the future of electric tanks, projection fuels and improvised explosive device-sniffing robots, a less glitzy operation aims to shave significant cash and carbon by converting its non-tactical vehicles to electric vehicles.
After three years of inquiry, the project is putting the military knee-deep into a first-of-its kind demonstration that aims to prove that an EV fleet can operate at the same cost as a same-sized fleet of gas-guzzlers. But the magic bullet for how this gargantuan fleet will pencil out is a little bit of a surprise.
It's not fuel costs saved, as is typical. It's vehicle-to-grid revenue.
Here's how: It turns out the military has 195,468 non-tactical vehicles, half of them trucks, the rest sedans and vans and heavy-duty vehicles.
But it's challenging to make the business case to convert them to EVs even though most of those low-mile vehicles never leave the base.
Sure, making a case for electric is easy for your 60-mile-a-day commuter, even 20 miles a day. But converting low-mileage vehicles to EVs for the lowest possible cost is a special sort of assignment.
Enter Camron Gorguinpour, an Air Force staffer now leading the Department of Defense's Plug-In EV Program.
"That's been one of the main challenges," he told a Drive Oregon crowd last week at the trade group's monthly meet-up at Kell's Irish Pub. "How do we actually present a business case that make sense for our fleet?"
After probing ideas, including everything from leveraging volume in purchasing, targeting certain regions and downsizing batteries to cover smaller distances on bases, to financing EVs on leases, consolidating charging infrastructure, and vehicle-to-grid ideas, he landed on the vehicle-to-grid (V2G) concept.
Comments
If you are commenting using a Facebook account, your profile information may be displayed with your comment depending on your privacy settings. By leaving the 'Post to Facebook' box selected, your comment will be published to your Facebook profile in addition to the space below.