Focus the Nation shuts down during 'gap year' to reevaluate growth, future
By Andy Giegerich
Digital Managing Editor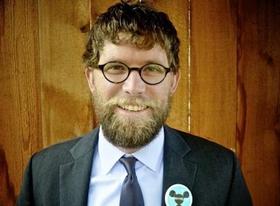 Garett Brennan hopes to ascertain whether Focus the Nation can become big or whether it should be folded into another like-minded nonprofit.
Garett Brennan plans to use 2014 as a "gap year," or a period of inactivity while he rethinks matters, for his much-lauded Focus the Nation group.
In other words, Brennan will examine whether Focus the Nation needs to became much bigger or disappear altogether.
For the time being, Focus the Nation is, in a physical sense, going away. The company has laid off its four full-time workers — Brennan even laid off himself — as its leader and board determine how the group can stick to its mission.
Put another way, Focus the Nation, which trains the younger set on ways to become more "energy literate" and assume green activist leadership roles, is determining whether to "go big or move on."
Asked whether there's a chance the group may cease to exist after 2014, Brennan said yes.
"But we will be looking at several options over the next year, possibly including ways to 'open source' our mission and our quadrant framework of bringing together young people drawn to careers as technicians, politicos, storytellers and innovators," he said, referring to the four areas in which Focus the Nation trains activists.
It's a surprising move for a group that counts strong corporate support — Portland General Electric Co.'s Shannon Mahar participated in the group's ReCharge 2013 event last summer — and has earned national acclaim for Brennan himself. Focus the Nation has also forged a partnership with the U.S. Department of Energy.
Brennan said organizations with similar missions interested in merging with or acquiring Focus the Nation "as a strategy for greater, disruptive impact in a shorter amount of time" should contact the board directly.
Comments
If you are commenting using a Facebook account, your profile information may be displayed with your comment depending on your privacy settings. By leaving the 'Post to Facebook' box selected, your comment will be published to your Facebook profile in addition to the space below.