Friends of Trees kicks off planting season with a crowd (Photos)
By Mason Walker
New Media Manager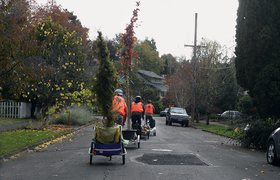 Cathy Cheney | Portland Business Journal
A Friends of Trees volunteer bike crew totes six trees and tools to a planting site in Southeast Portland. Click through the gallery for more scenes from Friends' first organized planting of the season.
For Friends of Trees, Portland's fall rains signal the beginning of a furious planting season.
Since 1989, the Portland-based nonprofit has planted more than 500,000 trees in Oregon and Southwest Washington. The group is expecting a busy year after kicking off its planting regimens this weekend in Portland.
---
Friends of Trees: Kicking off planting season in Portland
---
Over 100 volunteers came out on Saturday for Friends of Trees' first organized tree planting of the season, taking place in Southeast Portland's Mt. Tabor and Montavilla neighborhoods.
Along with organizing plantings, Friends is a strong advocate for building urban tree canopies. City trees offer a wide range of economic benefits, including reducing home energy use from summer shading, increasing home values and reducing stress on public sewer systems.
Sustainable Business Oregon photographer Cathy Cheney tagged along with a volunteer crew for a look at the well-orchestrated affair. More than 140 trees were planted throughout the day.
SBO will be covering several tree and forest economy issues through the month. Click through the gallery above for today's coverage, which tracks how the Friends of Trees team and their homeowner helpers planted trees throughout Southeast Portland.
Comments
If you are commenting using a Facebook account, your profile information may be displayed with your comment depending on your privacy settings. By leaving the 'Post to Facebook' box selected, your comment will be published to your Facebook profile in addition to the space below.