Green Globes fans rejoice, LEED backers silent after GSA decision
By Lee van der Voo
Contributing Reporter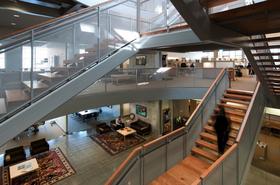 While such projects as the Mercy Corps Headquarters received LEED Platinum status, the Green Globes certification, recently endorsed by the General Services Administration, could win favor among certain construction industry types.
Word that the Green Globes would be officially recognized by the General Services Administration as one of two federally recommended building certification programs was generally met with cheers from the lumber and business sectors.
On the other hand, those who preferred that GSA, the standard-setting bureaopoly that governs federal government contracting, instead favor U.S. Green Building Council standards reacted with, well, no reaction.
GSA's late-October announcement might be a quiver in a cap for Portland's Green Building Initiative, which crafted the Green Globes. The certification standard came to the marketplace in 2004 and set more flexible standards on green building.
The certification is now one of the few LEED alternatives. And it's the first besides LEED to earn a federal thumbs-up.
Critics have cast the Green Globes as LEED-lite at times. The GSA decision drew grumbling from Treehugger for Green Globes' incorporation of plastics and less rigorous lumber standards. The GSA news also garnered some press coverage and set off a small flurry of explanatory handwringing in the green-building blogosphere.
But Erin Shaffer, GBI's vice president of federal outreach, shunted the criticism. She believes Green Globes are a good fit for the federal government because its agencies often acquire and lease spaces in existing buildings that are more easily and flexibly remodeled to Green Globes standards.
More than 300 federal buildings already have the certification, she said. She also points out that Green Globes sends a third-party certifier to walk the building, rather than just push paper, and include a 12-month operational analysis to help control ongoing costs.
Comments
If you are commenting using a Facebook account, your profile information may be displayed with your comment depending on your privacy settings. By leaving the 'Post to Facebook' box selected, your comment will be published to your Facebook profile in addition to the space below.