KEEN's new grant program is pretty peachy
By Andy Giegerich
Digital Managing Editor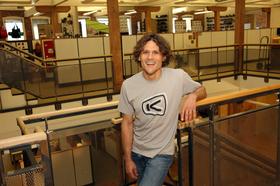 KEEN's Chris Enlow said his company wants to allot some $100,000 in grants to groups that promote outdoor activities.
The KEEN footwear company has launched a program it says will "fuel people's passion for protecting the environment" while promoting " responsible outdoor participation."
The KEEN Effect program aims to allot $100,000 in grants to 25 organizations worldwide. The grants will go out the door in early 2014.
"At KEEN, we believe spending time outdoors is a key element to build strong communities and a healthier planet," said Chris Enlow, the company's corporate social responsibility manager. "We also know we have incredibly caring, creative and connected fans. We designed The KEEN Effect with that in mind, to give KEEN fans the opportunity to help fund the hard-working non-profits that enable them and others to enjoy the outdoors."
The program fits in nicely with KEEN's Hybrid.Care efforts, which aim to promote volunteerism and corporate responsibility. KEEN has alloted more than $7 million in cash and resources to non-profit organizations worldwide over the last nine years.
The KEEN Effect asks fans of the shoe's brand to nominate their favorite organizations for the grants. Recipients must demonstrate how their strategies promote outdoor participation. The grants are available to tax exempt not-for-profit organizations or international equivalents.
"Hopefully our dollars will inspire more people to get outside while helping to protect natural playgrounds," said Enlow. "We're excited to see the effects of The KEEN Effect in the months and years to come."
Comments
If you are commenting using a Facebook account, your profile information may be displayed with your comment depending on your privacy settings. By leaving the 'Post to Facebook' box selected, your comment will be published to your Facebook profile in addition to the space below.