PSU set to launch new social innovation program certificate
By Andy Giegerich
Digital Managing Editor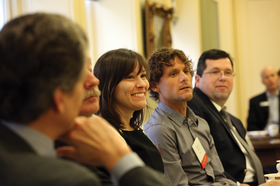 Cathy Cheney | Portland Business Journal
Cindy Cooper said PSU's new certificate program will help social impact specialists solve a variety of environmental and other operational issues.
Portland State's Impact Entrepreneurs program is set to offer a new certificate for students looking to impart their social smarts onto the business world.
The Business of Social Innovation professional certificate aims to help entrepreneurs design "business models that address social and environmental problems." It will be offered starting in January.
The Business of Social Innovation professional certificate is a mostly online, four-course, one-year program. It includes curricula in business, leadership and social solution design skills that can help students launch "high-impact social ventures or intrapreneurial initiatives."
The program is believed to be the first of its kind worldwide.
"Entrepreneurship is an engine of economic development, it can be taught, and when focused on addressing problems like poverty, access to health care, and social inequity, it is also a powerful force for creating a healthier world and the rewarding lives we seek," said Cindy Cooper, Impact Entreprenuers' co-founder and director.
The program's courses include sections on social innovation and storytelling.
"Portland is a hub for innovation in both for-profit and non-profit sectors," said David Griswold, president and founder of Sustainable Harvest Coffee Importers. "This program provides new social entrepreneurs and those interested in social impact careers with the tools to turn great ideas into viable social enterprises that drive positive change."
Comments
If you are commenting using a Facebook account, your profile information may be displayed with your comment depending on your privacy settings. By leaving the 'Post to Facebook' box selected, your comment will be published to your Facebook profile in addition to the space below.