SBO Award Winners 2013: Columbia Green reaches the top
By Andy Giegerich
Digital Managing Editor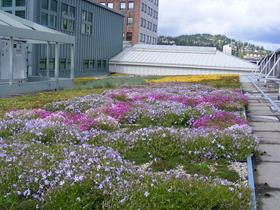 Columbia Green Technologies' portfolio includes the colorful ecoroof atop the Multnomah County Library.
Editor's note: To mark last week's SBO Innovation in Sustainability Awards, we're posting the full stories — including bonus content — that ran in our special publication on our website. To purchase copies of the publication itself, please contact Bill Berninger at wberninger@bizjournals.com.
If you ever get a chance to visit Columbia Green Technologies' Southeast Portland's headquarters, ask one of their crack staffers for a tour of the roof.
After a bumpy ride in what feels like a 100-year-old (and rickety) freight elevator, you'll hit a bit of gardening nirvana. It's on that roof where Columbia Green's work shines the brightest: Rows and rows of flora that both protects the Central Eastside Industrial District building's ancient roof and diverts plenty of water toward better uses.
Plus, there's an absolutely killer view of downtown Portland and the city's northern points.
The rooftop is one of the best spots in Portland, but it only tells a fraction of the Columbia Green story. The green roof company earned SBO accolades for several reasons, including its work atop Sandy High School and the Multnomah County Library.
At the Sandy school, green roofs top two of the school's classroom wings and steer water toward a 500,000-gallon catchment tank. The design by Dull Olson Weekes–IBI Group Architects Inc. brings green-conscious to the public education realm, which encourages better behaviors down the road as students make their way into society.
Columbia Green has exported its systems to such countries as Canada and the Philippines. About 30 percent of its revenue comes from exports. The company's revenue has grown annually by 200 percent over the past several years. President and CEO Vanessa Keitges projected the figure will jump by 300 percent this year.
Comments
If you are commenting using a Facebook account, your profile information may be displayed with your comment depending on your privacy settings. By leaving the 'Post to Facebook' box selected, your comment will be published to your Facebook profile in addition to the space below.