SBO Award Winners 2013: Nothing wasted in Lane County
By Andy Giegerich
Digital Managing Editor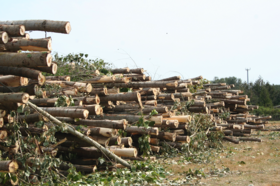 MWCC's Biocycle Forest consists of 600 acres, including about 400 acres of poplars.
Editor's note: To mark last week's SBO Innovation in Sustainability Awards, we're posting the full stories — including bonus content — that ran in our special publication on our website. To purchase copies of the publication itself, please contact Bill Berninger at wberninger@bizjournals.com.
In a late-August story, we introduced readers to "Oregon's smelliest forest."
That would be part of the "Biocycle Forest" that the Metropolitan Wastewater Management Commission in Lane County is harvesting. It's routing poplar trees to chipped products and hog fuel while making good on a decades-old commitment to use biosolids sustainably.
It's an intriguing project that, with its government roots, come from an unusual place. The MWMC treats wastewater for 220,000 residents in Lane County, with an operating budget of $16 million a year. Its territory includes the cities of Springfield and Eugene, and its mission calls for disposing the biosolids that result from the wastewater treatment process.
Biosolids can often provide fertilizer for agricultural crops. In the past, MWMC would apply biosolids exclusively to hay and grass seed farms in the Lane County area through a volunteer program.
However, a citizen advisory panel advised the commission to diversify in the mid-90s. That's when MWMC's biosolids began fertilizing poplar farms.
All told, the Biocycle Forest counts 600 acres, which include about 400 acres of poplar trees. It was planted beginning 10 years ago and in three phases. Regulations call for the trees to be managed as an agricultural crop and harvested every 12 years.
Comments
If you are commenting using a Facebook account, your profile information may be displayed with your comment depending on your privacy settings. By leaving the 'Post to Facebook' box selected, your comment will be published to your Facebook profile in addition to the space below.