Software allows brewers to tout eco stats on ale labels
By Andy Giegerich
Digital Managing Editor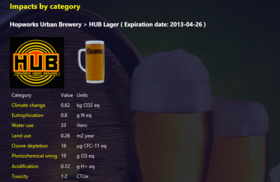 An IERE-generated label for Hopworks Urban Brewery details metrics in several sustainability-related categories.
A Washington state group has developed software that allows beer makers to proudly display their environmental acumen.
The Institute for Environmental Research and Education, of Vashon Island, wants the craft brew industry to report their environmental impacts. The eco-labels, produced through the Earthsure Brewers software, show "life cycle assessments" also known as Type III Environmental Production Declarations.
"The (information is) displayed in a similar manner like the nutrition label on food," said the IERE's Colleen Barta. "Links are used to help consumers understand what the impact categories mean."
The labels report footprints in the carbon, water and energy realms.
In Oregon, Hopworks Urban Brewing and Fort George Brewery have adopted the labels.
"LCAs are one of the best tools available to date for fact-based impact studies of products," said Nate Young, Hopworks' sustainability manager. "Further, most LCAs, including the IERE project, do a nice job of looking at a number of different impact areas beyond just the carbon footprint. We do want to know about the water footprint of a pint of beer, or the eutrophication impacts, and many studies don't offer that information."
Young said the tool is also helpful in the ways Hopworks determines the impacts of different beer packaging.
"Obviously kegs are the least impactful option but they aren't the most practical for most people (they're tough to take backpacking)," he said. "So, if we are considering a 16-ounce can versus a16-ounce bottle, we can get rapid feedback on the impacts of our choices."
The IERE system provides pie charts that give the brewers a snapshot of areas in which they can reduce their resource use.
Comments
If you are commenting using a Facebook account, your profile information may be displayed with your comment depending on your privacy settings. By leaving the 'Post to Facebook' box selected, your comment will be published to your Facebook profile in addition to the space below.