Sports franchises hit D.C. to talk climate change
By Andy Giegerich
Digital Managing Editor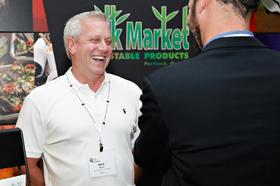 Local Portland company Stalkmarket exhibited at the 2013 Green Sports Alliance Summit.
Representatives from five of the U.S.'s major sports leagues and the U.S. Olympic Committee will hit Congress Thursday to talk about the effects of climate change on sporting activities.
Representatives from Major League Baseball, the NBA, the NFL, the NHL and the WNBA will talk with Rep. Henry Waxman, a California Democrat, and Rhode Island Democratic Sen. Sheldon Whitehouse to weigh in on climate change. Waxman and Whitehouse co-chair Congress' Bicameral Task Force on Climate Change.
Each of the leagues, along with Major League Soccer, are working to reduce greenhouse gas emissions.
Portland's Green Sports Alliance is working on the issue with franchises from each of the leagues.
Comments
If you are commenting using a Facebook account, your profile information may be displayed with your comment depending on your privacy settings. By leaving the 'Post to Facebook' box selected, your comment will be published to your Facebook profile in addition to the space below.