The New Forest Economy: Exploring Oregon's changing wood products sector
By Andy Giegerich
Digital Managing Editor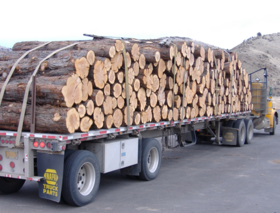 Juniper wood, which is slightly more dense than ponderosa pine, according to Oregon State University researchers. The harvest of such trees in Southeastern Oregon has created a new market that's a part of what we're calling The New Forest Economy.
In Oregon, we love our trees. We love to look at them, we love to climb them, we love to — heck, we need to, monetize them.
Yet the ways with which we're taking advantage of this abundant natural resource — half of Oregon's 61 million acres consist of forestlands — are, for several reasons, changing. Not so long ago, companies would purchase large stands of trees, cut them, plant more and then repeat the process in untapped areas.
Harvesting, of course, remains a critical part of the forest products sector. However, thanks to several strategies with roots in the sustainability realm, progressive new ideas are reshaping a truly old sector.
Biomass facilities have popped up in Central and Eastern Oregon. GreenWood Resources in the state's north central patch is specializing in growing poplars in a fast, yet environmentally responsible, fashion. While state and industry interests have teamed up to both knock down juniper trees that have spread like weeds throughout the state's southeastern corner and turn them into hardwoods for furniture and various other accouterments.
Each of these emerging industries, which exist in what we're calling The New Forest Economy, have one key factor in common: The newish sectors provide ongoing jobs, as opposed to the cyclical wood products sectors of yore that thrived and suffered along with housing starts, in rural areas.
This week's print edition of the Portland Business Journal will feature several stories about The New Forest Economy. Stay tuned in this space, as well, for online features — galleries, analyses and the like — that we'll publish ahead of Friday's paper.
Comments
If you are commenting using a Facebook account, your profile information may be displayed with your comment depending on your privacy settings. By leaving the 'Post to Facebook' box selected, your comment will be published to your Facebook profile in addition to the space below.