The New Forest Economy: GreenWood's poplar selection (Photos)
By Andy Giegerich
Digital Managing Editor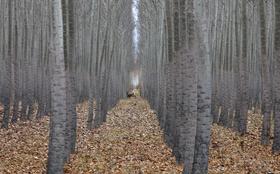 Cathy Cheney | Portland Business Journal
A lone buck enjoys the terrain at GreenWood Resources tree farm near Boardman, Ore. The Business Journal will feature stories on "The New Forest Economy" in Friday's cover story. Those stories will explore ways that wood products companies, largely by adopting sustainability-oriented philosophies and systems, are finding ways to provide steadier (and recession-proof) employment while creating a bevy of new uses for Oregon's most abundant natural resource. Click through this gallery for more scenes from GreenWood's operations.
When we began shaping today's Portland Business Journal cover story — it's called "The New Forest Economy" — we immediately thought of the work they're doing at GreenWood Resources.
---
GreenWood: A look behind the scenes at a high-volume tree farm and processing facility
---
The company owns and manages tree farms that feature a fast-growing hybrid poplar variety that matures in as few as 10 years. GreenWood's trees are used as feedstock for paper pulp, building materials and biofuels.
The company is poised to grow, with its operations backed by financial services giant TIAA-CREF in August 2012.
We sent photographer Cathy Cheney out to the Boardman area to get a close-up look at GreenWood's facilities. Her work also took her to a production facility operated by The Collins Companies, long a mainstay among forest products companies.
Click through on the picture above for a look at GreenWood's facilities and the way the trees make their way through the Collins processing plants.
Comments
If you are commenting using a Facebook account, your profile information may be displayed with your comment depending on your privacy settings. By leaving the 'Post to Facebook' box selected, your comment will be published to your Facebook profile in addition to the space below.