With Thanksgiving near, Tofurky sustainably stuffs its Hood River plant (Photos)
By Andy Giegerich
Digital Managing Editor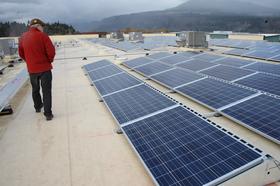 Cathy Cheney | Portland Business Journal
Turtle Island's Seth Tibbott takes a stroll among Tofurky's rooftop solar panels.The new Hood River plant contains 80 percent locally sourced materials and is lined with some 400 solar panels, which sit near the ecoroof's vegetable garden. The new facility is on track to use between 40 percent and 50 percent less energy than Tofurky's older production facility.
When we hit the new Turtle Island Foods facility for a quick tour last summer, it was still under construction. When photographer Cathy Cheney hit the plant again last week, it was ready to go.
Cheney was set to meet with Seth Tibbott, Tofurky's founder who's the subject of this week's PBJ Interview (his entertaining takes will appear in Friday's weekly edition). When she arrived at Turtle Island, production had halted, but Tibbott graciously showed Cathy around his new enviro-friendly space.
The work cost $10 million and made the 33,000-square-foot plant just the world's second Leadership in Energy and Environmental Design Platinum-certified food processing facility in the country.
The new site includes novel ways of managing wastewater, lighting offices and repurposing various types of wood and other natural materials rescued from points surrounding Turtle Island's Hood River locale.
Click through on the photo above for Cheney's glimpse into Turtle Island's brave new foray into sustainable manufacturing.
Comments
If you are commenting using a Facebook account, your profile information may be displayed with your comment depending on your privacy settings. By leaving the 'Post to Facebook' box selected, your comment will be published to your Facebook profile in addition to the space below.